So I'm doing this. Try and stop me.
I meant to do this earlier but I am lazy. Sue me.
I am going to tell you the best five games of the first half of the year. To make the list, I had to have played the game and it had to have come out between the months of January and June of this year. I am ranking them in order of my enjoyment. Will these games make it on my overall ten best of the year? Possibly. 2013 isn't over yet and with a new console launching this year who knows what the fuck my list'll be in four months or whatever.
So here goes.
5. The Last of Us
This game would've been higher on this list were it not for the fact that right around midway through, the gameplay begins to get in the way of the other parts of the game. What starts as a tense game of hiding from notzombie zombies and using the environment to throw them off your trail becomes yet another story in which the real monsters are humans. At least in regards to gameplay. Stealthing past zombies is intense. Stealthing past human after human after human is boring, especially when at different points
stealth is not an option
. I'm not saying that to justify my getting seen. There are points in the game where you
have
to be spotted to advance. That said, I still found the journey to be worth it and the central characters enjoyable and developed. It's a damn downer of a game, though. Shame that the entire Pittsburgh section of the game nearly killed my enthusiasm.
So fuck you, Pittsburgh. You ruin everything.
Fire Emblem: Awakening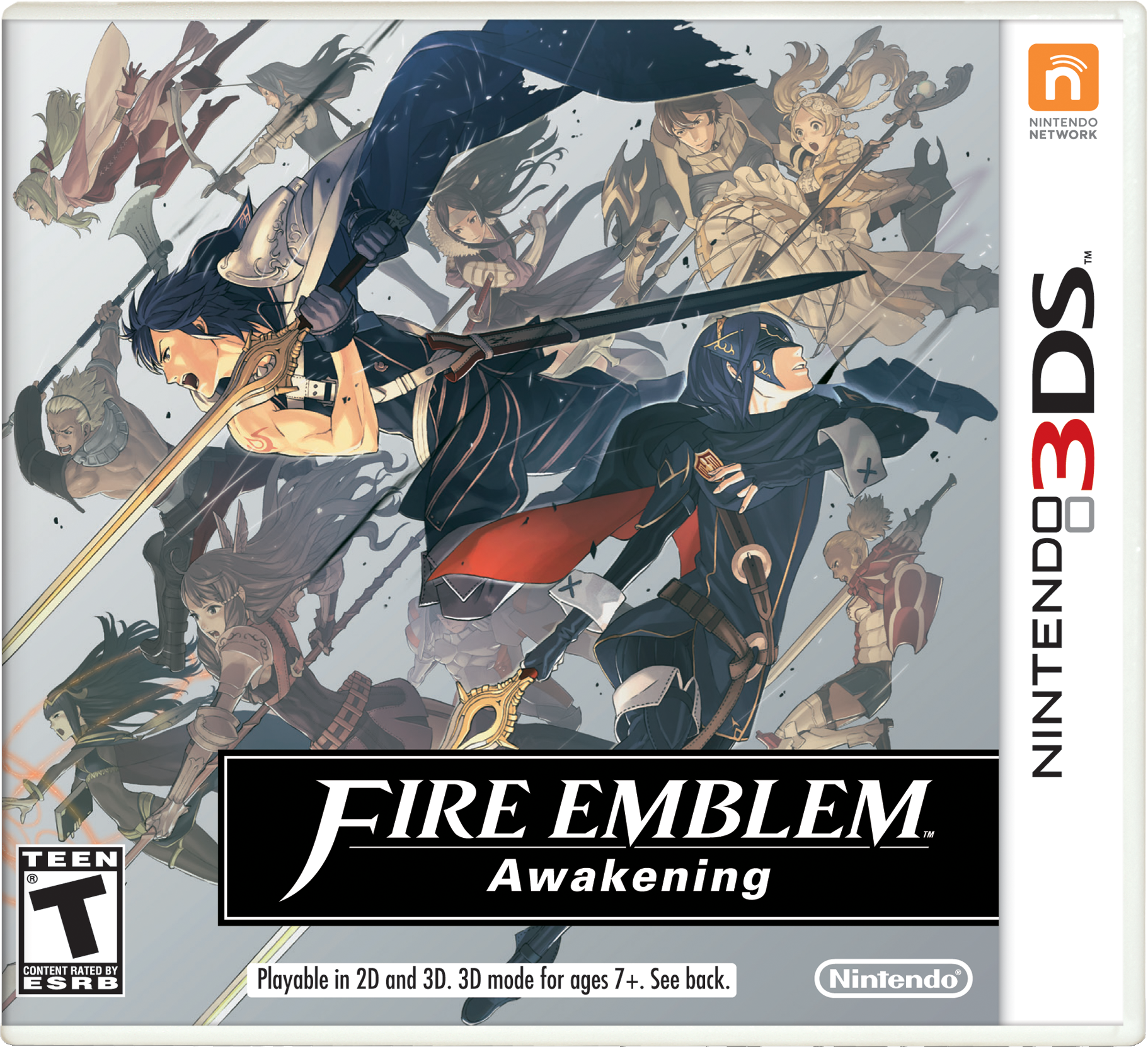 One of the characters your avatar can marry is literally the exact 'perfect' type of girl that plays to my types. It should be number one for that alone.
Also it's just a damn good game and a damn good Fire Emblem game.
But man....Sully...just...Sully. All those Tharja fans are missing out. Sully...Sully is all you need. Sully is what Chie would be like if Chie were in a fantasy setting. But Sully is better than Chie. Fuck Chie.
3. Metal Gear Rising: Revengeance
HOLY SHIT THE FIRST LEVEL OF THE GOD DAMN GAME HAS YOU FIGHTING A FUCKING METAL GEAR RAY. Rising deserves credit for being both a really solid action game and a decent continuation of the MGS canon. Rising makes it pretty clear why MGS 4 had to have been Solid Snake's last outing (I mean, even if he didn't have that accelerated aging thing) and why future MGS games will probably feature Big Boss instead. It's because Solid Snake wouldn't last an hour against the enemies Raiden takes down. Much less the bosses. The craziest boss Snake ever faced was Psycho Mantis. In Rising, one of the bosses is a dude who IS ALREADY CUT UP BECAUSE HIS BODY IS SEGMENTED AND HOLY SHIT HE'S THROWING HIS LIMBS AT YOU AND OH GOD THIS IS AMAZING.
It's just...fuck it's a god damn great action game even if it totally ruins the whole part of MGS 4 where Raiden is all "Rose, I'm done fighting, I'm gonna be with you and our kid." as well as another, larger part of MGS 4 that it removes. But whatever, it's still a great game and as far as MGS canon goes...it's a logical continuation. Did I mention it also has perhaps the best final boss? Because it does. Because HOLY SHIT.
2. Remember Me
Ironically, people forgot about this game. Durrhurrhurhdurf. Shut up. While the game may not exactly re-invent the wheel with its combat system it still gets points for trying something different. It is a unique, but flawed, system where you can construct your own type of combo (not the animations, though) to do what you want. You want a combo where all you do is gain health when you hit a dude? You can, but you'll take forever killing someone. You want an eight string of damaging blows? Go ahead! Build your combo how you want. And since all the button presses in every combo use the same timing, it is easy to pull off your full string. Some limitations, like not being able to continue a combo on another enemy after killing one, make it feel kind of wonky at times.
But fuck the combat, it's not why this game is number two. It's because of everything surrounding the parts leading up to the combat. The god damn world. The score. The entire aesthetic. Fuck. If this game was a movie it would probably win the cinematography Oscar. God damn what a well realized future city this is. It goes whole-hog with its gritty future and embraces all the goofy shit like slender robot maids and digitial displays on EVERYTHING. The story is decent too, but the most unique part of the game - memory remixing - is underused. It is fucking awesome to go into someone's memory and alter it so they think something else happened but didn't. Like, say, remixing someone's memory so they think the hospital/jail you escaped from was the same hospital that killed her husband instead of curing him.
It's just a really unique and fun game that, sadly, didn't make much of a splash. But the fact that it had such difficulty coming out due to its female protagonist really makes me hate everything. Especially since:
1. Tomb Raider
Tomb Raider was on my radar ever since that first CG trailer. A new, more subdued take on Lara Croft, a character so defined by her physical appearance, could only be a good thing, right? Well, of course the marketing almost fucked it up by doing that whole "YOU WILL WANT TO PROTECT HER ON THIS JOURNEY." Way to give those video game feminists more fuel, guys. But whatever. Bad marketing aside, the game itself is just plain great. The semi-open world of the island allows for all kinds of Metroid-like exploration with items obtained later. The gunplay is solid and satisfying, as is the optional stealth approach. The traversal is fast, fluid, and fun. Shooting a rope arrow and zip-lining to a rock wall and then axe climbing/jumping your way to the top makes traversal swift and never ruins the pacing of the game. Lara as a character is handled well and despite what I was led to believe, never once did I feel like I wanted to protect her nor was she ever about to be raped. In fact, most of the time I felt like a bad person when she gets killed because holy shit a lot of the death animations are brutal. Like, 'giant steel beam through the neck and the back of the head nearly decapitating you but instead impaling you in the head' brutal. But I never felt like I had to protect her. Lara can handle herself.
There's tons of incentive to explore the island and gather collectibles. My favorite were the hidden tombs. While they were brief, they offered fun platform and puzzle challenges that were a nice break from the shooting dudes and urban traversal. It's funny how Uncharted owes a lot to Tomb Raider and now this Tomb Raider was taking some pages from Uncharted. But I had way more fun with this game than any of the Uncharted games. With the sequel coming to next gen, I cannot wait for Lara's next outing.
But then again, this game is one people who use the term 'ludonarrative dissonance' like to bring up so fuck this game and anyone who uses that term.
BONUS: THE FIVE BEST VIDEO GAME TRACKS OF THE FIRST HALF OF THE YEAR
Only one track per game, to keep it fair, otherwise this would be five songs from one game.
5. Metal Gear Rising - Rules of Nature (Platinum Mix)
Rules of Nature
I could probably put any boss theme here and it wouldn't even matter. They are all great. But this is the song that plays against RAY in the first level and it sets the stage for the whole fucking game and god damn this song is just nuts in the best way.
4. Anarchy Reigns - Jazz House
Jazz House
In a game with a lot of dumb, catchy tunes, this is the catchiest. It's also the main menu theme. So naturally I like to just idle here and funk out to some jazz. But when I say this game has dumb, catchy tunes I mean it. This and Metal Gear Rising have the best dumb songs.
Seriously
listen
to this
stuff
3. The Last of Us - The Path
The Path
I had a hard time picking a single song from the final three games. Because their soundtracks are damn great. The Last of Us features great twangy acoustic guitar stings to punctuate scenes in the game. I could've picked one of those, but instead I picked this one because I like the way Gustavo Santaolalla twangs his strings.
2. Tomb Raider - A Survivor is Born
A Survivor is Born
This song is a great summation of the game. Which is probably why it is the ending theme. The music speaks for itself, really. It's a great piece to cap a great god damn video game.
1. Remember Me - Nilin the Memory Hunter
Nilin the Memory Hunter
I would've put "THE WHOLE OST" if I could, but I have rules I must abode by. But really, the soundtrack for Remember Me is utterly fantastic. A great blend of electronic music with orchestral to give that future city vibe that permeates throughout the entire game. But the real brilliance of the OST and it is heard in this track too is how composer Olivier Deriviere alters the music to give it a sort of 'glitchy' feeling which not only makes for a great effect but also fits in with the entire theme of the game. It's a brilliant soundtrack to a fucking gem of a god damn game.